Introduction
Hi, I'm Briain. I am a brand geek with a passion for video. Working in Dublin's ad land.
Thinking back just 10-15 years ago, there was only one 'media device' in your average Irish home: the family TV. Every Tuesday evening at 8PM the entire family sat down to watch the latest American comedy, FRIENDS. The TV received 100% of our attention (bar my mother doing a kettle run!) and ultimately meant that advertisers didnt have to work very hard to get their message across.
Fast forward to today, and with the proliferation of mobile technology – Im sure I am not the only person to watch TV with my phone to my left, iPad to my right and laptop on my knee! What this means is that when the match hits half time I am checking to see what people are saying on Twitter, what my friends are up to on Facebook and if Paddy Power is going to pay for my trip to Euro 2012! ….anything but watching the adverts.
The result is that marketers are having to work far harder to get their message across. But the good news is that with the evolution of social networks, when they do get it right – videos can go 'viral' and receive millions of views, with a minimum of advertising spend.
Why Video Ad Candy?
A while back, I came across this BULOVA clock in Florida's Hard Rock Hotel, and it gave me an idea…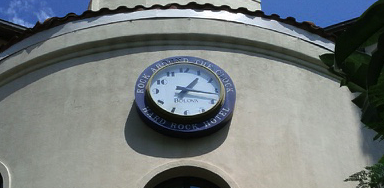 The very first television advertisement was broadcast July 1, 1941. The watchmaker Bulova paid $4 for a placement on New York station WNBT before a baseball game between the Brooklyn Dodgers and Philadelphia Phillies. The 10-second spot displayed a static picture of a clock superimposed on a map of the United States, accompanied by the voice-over "America runs on Bulova time."
The transformation that occurred over the next 70 years has been revolutionary: From black and white to colour, from static to video, from novel to viral and from analog to digital – advertisers have turned commercial messaging into a fine art.
Offline to Online: The Next Advertising Revolution.
Online video is no longer simply a place to enjoy skateboarding dogs and laughing babies: big brands have seem to have highlighted the importance of online video and have developed a successful marketing viral strategy. Think of the Cadbury's eyebrows and drum playing gorilla. My Prediction: With the convergence of offline & online technology, by 2013 there will be no such thing as "online video"; it will all simply be "video".
On this blog I want to explore what makes a great video ad and showcase the latest and greatest viral hits. Please get in touch if you have any thoughts, if you agree or disagree(!) and of course.. please share!
Thanks
Briain